Best Debris Junk Removal Services in Singer Island, FL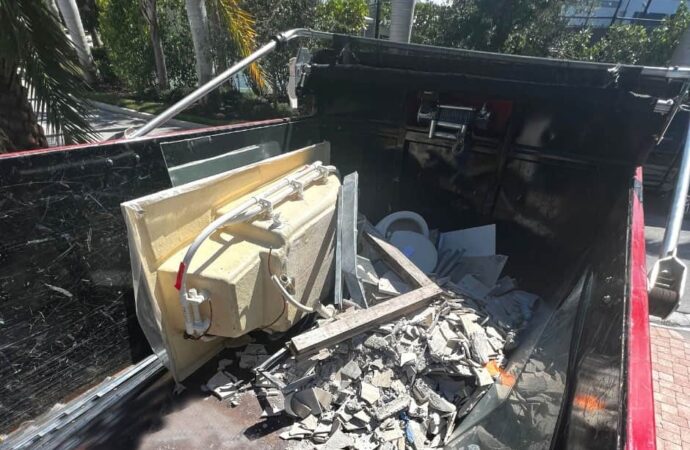 It can be difficult to transport trash, and more so if the trash is still in your work area or construction area, and you have to deal with all the debris that comes with this type of project. To remove their trash, many people rent dumpsters, and although this is a good option, it comes with a lot of work and time to be invested as well. Our team at Singer Island Junk Removal and Trash Haulers offers homeowners, contractors, businesses, and other individuals or groups a simple way to remove tons of trash in one day. All debris from constructions, renovations, and other projects are included, and we will make sure that the debris junk removal you need to go through is handled in the best way possible.
You can rest assured that we have all the necessary equipment and will remove any debris from your space.
Debris can be more than concrete or leftovers from other materials. We are more than just a pickup truck as well since we will be there for you making sure all the waste is collected and removed, and we are there for recurring pickups and removals if needed so you can handle all the debris in one go or as part of the project you are performing and working on.
As long as the debris is not harmful chemicals or substances, we can accept it. We also make sure that everything goes to the most efficient recycling and transition facilities in the city.
There are many options available to help you understand debris details and properties. We can also assist with areas and properties that may not be obvious, so rest assured we will be there for you regardless of the time as long as it isn't hazardous.
For instance, residential debris can be defined as household waste that is generated from a range of projects, such as home renovations and garage cleanouts. You may also need to deal with other junk materials and items. We will take care of all of them and ensure the removal is done in every aspect.
We also offer dumpster rentals at affordable rates for all your property debris removal needs since you can use them to store your junk, and we can then pick up the dumpster, so you don't have to make an effort to find a better way.
Now, how do you know if your materials qualify for this?
Construction debris is any material used for construction or remodeling. You can also find concrete and block, but most of it is commercial property and projects, and it still involves much more, like asphalt and waste alone.
It is not an easy job to clean up construction and commercial debris. To manage your waste, you need a reliable debris-hauling company like ours. We are always there for you, and we will make sure that your area is clean and tidy with prompt delivery and pickup of every dumpster we rent.
While we can remove any type of residential or commercial debris, we can also help in extreme cases with storm debris, which is any debris that was blown onto your property by severe weather events like hail, lightning, or shingles. We will help you dispose of it properly and recycle it.
These are not the only types of junk we can take away. For more information about our company and services, contact Singer Island Junk Removal and Trash Haulers. We will provide a free estimate and discuss your specific needs.
Here is a list of our services you can get at Singer Island Junk Removal and Trash Haulers:
---
Singer Island Junk Removal and Trash Haulers is the top company in Singer Island that offers the best residential and commercial junk removal services. Here's our additional services:
---