Best Storage Unit Clean Outs in Singer Island, FL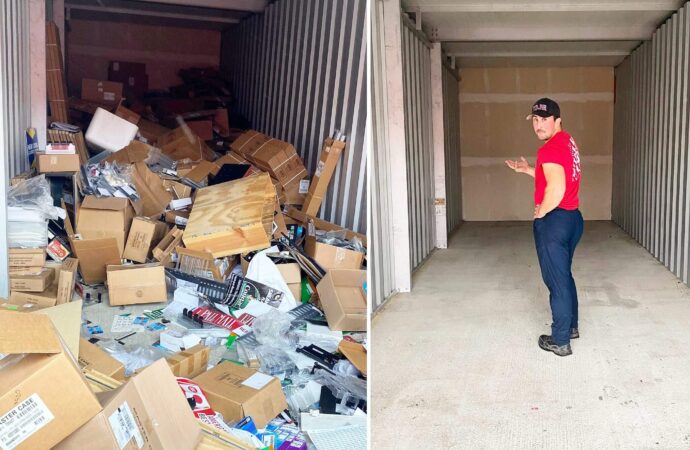 You can temporarily store things that you don't use often, have special meanings to you, or you might need to move a portion of your belongings because you have limited space when you decide to rent a storage unit or even own one, which you can later sell or rent to someone else. Although you can use the storage unit for many purposes, it is easy to clutter it up and lose the purpose of having it. It is often necessary to clean out storage units for this very reason. However, it will be more difficult than you think to get rid of all the junk or take away what doesn't work. Our team at Singer Island Junk Removal and Trash Haulers can assist you in the process. We will either remove all junk and organize it or just clean the whole unit and ensure you don't handle the entire disposal.
Cleaning out storage spaces can be a hassle, and we want to make sure you don't continue struggling with this process. It is best to call us and ask for help. This will ensure that the task is completed quickly and that all junk and other items are properly disposed of. Our team is very familiar with cleaning out storage areas and making sure that items are donated or recycled.
Storage unit clean outs can be made easy with our assistance. Our service offers the greatest advantage of being able to do everything. It won't take you long to get your stuff out of storage or do all the lifting.
We will take your items from the storage unit and load them in our truck. We will only ask for your specific preferences and take care of the rest, so make sure to let us know what you would like to keep or not.
We recommend that you review the following tips in order to speed up the process and ensure our team can be there for the actual mission and idea you have in mind:
Cleaning requires a certain mindset. You must know what you want to keep and what you don't. 

If you haven't cleaned out your storage space in a while, it is possible to forget what you had. Take the time to go over your items, or make sure to be there while we remove everything so you can decide what to keep or not.

You can sort multiple piles. We can help you sort three piles in specific: recycling, disposal, and donations. Based on what you keep, we can add a fourth and work around what you would like to conserve from your storage.
How We Handle the Complete Clean Out
We are committed to proper disposal in recycling and transition centers, so you don't need to worry about how we will dispose of your junk.
Singer Island Junk Removal and Trash Haulers is focused on recycling most items. We remove all items during clean outs, but always make sure you're comfortable with the disposal and how we aim to keep everything as green as possible.
You can trust our team for outstanding service.
Contact us to get more information and a quote. You can arrange for your storage unit to be cleaned immediately, or make sure to let us know some days prior in case it is a big project.
Here is a list of our services you can get at Singer Island Junk Removal and Trash Haulers:
---
Singer Island Junk Removal and Trash Haulers is the top company in Singer Island that offers the best residential and commercial junk removal services. Here's our additional services:
---